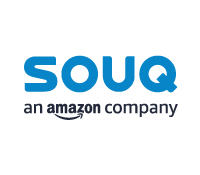 Souq.com is the Middle East's leading online marketplace. We connect people and products – opening up a world of possibility. From bracelets and backpacks to tablets and toy cars – we give you access to everything you need and want. Our range is unparalleled, and our prices unbeatable. Driven by smart technology, everything we do is designed to put the power directly in your hands – giving you the freedom to shop however, whenever and wherever you like. We're trusted by millions, because we don't just deliver to your doorstep, we were born here. With Souq.com you'll always be getting a good deal – with exceptional service that makes your shopping experience as easy and seamless as possible.
Steps to earn Air Rewards points (This partnership is currently on an invite-only basis)
Step 1: Open the email received from Air Arabia.
Step 2: Click on the souq.com brand image and a new page directed to souq.com will open.
Step 3: Your unique Air Rewards identification number will be pre-populated in the respective re-direction URL.
Step 4: Now, simply select items and pay.
Offer Details
Points Earned per 100 AED spent
125
75
50
25
Categories
Footwear
Eyewear & Optics
Clothing
Bags & Wallets
Books
Watches & Accessories
Coins & Stamps
Beauty
Baby
Art, Crafts & Collectables
Vouchers & Tickets
Vehicle Parts & Accessories
Toys
Tools & Home Improvements
Sports & Fitness
Pets Food & Supplies
Perfumes & Fragrances
Office Products & Supplies
Music & Movies
Kitchen & Home Supplies
Home Decor & Accessories
Health & Personal Care
Garden & Outdoor
Bed & Bath
Mobiles, Tablets & Accessories
Kitchen Appliances
Home Appliances
Gaming
Electronics
Computers, IT & Networking
Cameras & Accessories
Grocery, Food & Beverages Purchases will not earn points.
Air Rewards points will be credited directly into your account within 75 days of your qualified purchase.*

Applicable Locations
Bahrain | Egypt | Oman | Saudi Arabia | United Arab Emirates
Contact Details
Email: airrewards@airarabia.com
Air Arabia Call Centre: +971 6 558 0000
Terms & Conditions
Points can only be earned by clicking the souq.com logo in the email sent to you and placing your order in the same session. If you visit another website and then come back later and place an order, you may not earn Air Rewards points.
Orders must be made via the souq.com website. Orders made via the souq.com app or any other channels are not eligible for points.
Souq.com is not involved in points issuance and any queries regarding issuance may be emailed to airrewards@airarabia.com
Points cannot be claimed retroactively for an order placed earlier.
*All affiliate program and Air Rewards Terms and Conditions apply.