Chairman
Sheikh Abdullah Bin Mohamed Al Thani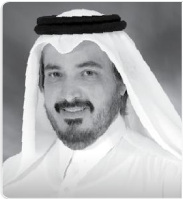 Sheikh Abdullah Bin Mohammad Al ThaniAir Arabia Chairman since 2003, & Sharjah Civil Aviation Chairman
His Excellency Sheikh Abdullah Bin Mohammed Al Thani holds several prominent positions in UAE. He served as member of the Executive Council of Sharjah and as Chairman of Sharjah Civil Aviation Department. He has a well-known track record in contributions towards developing air transport sector in UAE, as well as significant contributions and support to Economic & Tourism development in Sharjah.
Shk Al Thani Chaired Air Arabia Board since inception in 2003.
---
Executive Member
Mr. Adel Abdulla Ali
Adel Abdullah Ali (Chief Executive Officer & Air Arabia Board Member since 2003)
Mr. Adel Ali recieved award for the best CEO of low-cost carrier in the world for the years 2007, 2008, 2009 & 2010 In recognition of his efforts in founding the first low-cost carrier in the Middle East and North Africa. He is also selected as the best business man for the year 2011. Ali has more than 28 years in aviation world & strategic planning, His deep knowledge in tourism and commercial operations are well reflected in Air Arabia's performance since 2003.
Before Air Arabia, Mr. Ali served in various aviation positions; he served as vice president of the commercial & customer services in Gulf Air where he played a key role in restructuring the company. He also served for more than 20 years in different management positions with British Airways last of which was General Manager of the Middle east and Africa.
---
Air Arabia Board Member since March 2011
Sheikh Mohammed Bin Abdullah Al Thani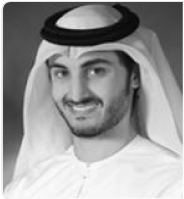 Sheikh Mohammed Abdullah Al Thani, an alumnus of the American University of Sharjah, (Bachelors in Business Administration '04 and MBA '06), is one of the prominent successful young leaders in Sharjah and a businessman, with positive footprints in many business fields especially travel and tourism. He completed Harvard Business School Executive Education Owner/President Management program in September 2018.
H.E. assumed the role Director of His Highness Sharjah Ruler's Office in the American University of Sharjah in 2010. He was appointed end of 2011 as Director General of Sharjah Statistics Center, and he assumed the role of Chairman of the Department of Statistics and Community Development from 2014 until April 2019.
Besides that, he also serves as Chairman of Gamma Aviation, AM Holding Company; Grab 'n Go Food Outlet, Tamween (Catering Co.), Al Nawras (Hospitality Co.) and he is the Chairman of EM Holdings – (EM Wire, Santos International, Ascent Advertising and the Co-founder of Musafir.com, UAE's premium-experience travel website, incorporated under Universal Tourism, an IATA accredited Travel Company).
---
Independent Member
Sheikh Khalid Bin Issam Al Qassimi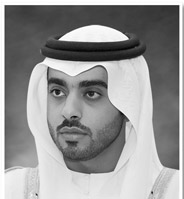 Independent Director – Since 2014. Chairman of Sharjah Civil Aviation
Sheikh Khalid Bin Issam Al Qassimi is the Chairman of the Department of Civil Aviation in Sharjah, he also is a member of the Executive Council of Sharjah Government, which is Chaired by H.H. Crown Prince of Sharjah. Through his career, Sheikh Khalid has served in various posts in both Sharjah Airport Authority, and Department of Civil Aviation. In 2012 he was appointed as Director General of Sharjah Civil aviation, and in early 2014 Shk Khalid was elected as Chairman of Sharjah Civil Aviation. Besides the above stated resposibilities, Mr. Al Qassimi is a board member of the General Civil Aviation Authority of in UAE, and a board member of Sharjah Aviation Services LLC. Sheikh Khalid holds a bachelors Degree in Commerce, and a Masters Degree in International Business.
---
Independent Member
Mr. Waleed Al Sayegh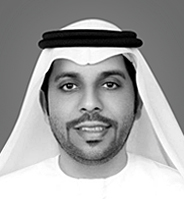 With an extensive experience in the fields of Investments and Finance, H.E. Mr. Waleed Al Sayegh is the Director General of Sharjah's Central Finance Department, and a member of UAE's Federal Finance policies committee. He is also the Chief Executive Officer of Sharjah Asset Management, Sharjah's sovereign investments vehicle, Chairman of Sharjah Holding, and Board member of Tilal Real-estate. Mr. Al Sayegh's expertise extends in areas of governmental accounting, budgets, management and administration, strategic management, and crisis management. Within the span of 25 years, HE has worked for several private and public entities in the United Arab Emirates.
---
Independent Member
Mr. Matar Al Blooshi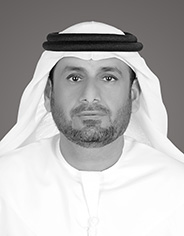 Mr. Matar Al Blooshi, a national of the United Arab Emirates, with over 22 years' experience in financial and fund management industry. He started his career in January 1992 with the Central Bank of the United Arab Emirates as a Dealer in the treasury department. In July 1995 he joined Abu Dhabi Investment Company as a Portfolio Manager, in June 1998 he joined First Gulf Bank as Head of Treasury & Investment Division and then he moved to National Bank of Abu Dhabi in March 2001 as a Head of Foreign Exchange and Commodities Department. In February 2005 Mr. Al Blooshi became the Head of Domestic Capital Market Group and the General Manager of Abu Dhabi Financial Services (Subsidiary of National Bank of Abu Dhabi) and he was given the title of Senior Manager / Asset Management Group in October 2006.
Currently Mr. Al Blooshi is the Chief Investment Officer at Das Holding LLC, a Member of the Board of Directors of First Energy Bank in Bahrain, Al Salam Bank Bahrain, Etisalat Misr and Chairman of Maalem Holdings in Bahrain.
Mr. Al Blooshi is a hard working group leader, with excellent interpersonal analytical and problem solving skills and building numerous contacts within the investment arena.
Mr. Al Blooshi holds a B.A in Banking & Financial Management from University of Arkansas, USA (1991).
---
Independent Member
Mr. Samer A. Katerji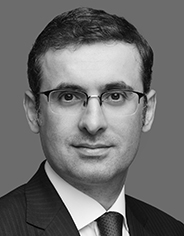 Mr. Katerji is an experienced Investment Professional with a demonstrated history of working in the financial services and investments industry for over 22 years. Throughout his career, Mr. Katerji has led the formulation and structuring of complex corporate finance transactions across a multitude of industries and regional markets. He is skilled in Mergers & Acquisitions (M&A), Strategic Financial Advisory, Capital Optimization and Restructuring as well as structuring of Capital Markets financing instruments, both in equity and debt products.
Mr. Katerji also has experience in the transportation and logistics sector and was previously involved in the IPO of Air Arabia PJSC, IPO of Royal Jordanian, IPO of Aramex, and the IPO of DP World.
Mr. Katerji is currently the CEO & Managing Director for Trussbridge, an investment advisory firm located in the DIFC, & regulated by the DFSA. Within this role Mr. Katerji has led and developed a strong execution team to conclude some very high profile transactions in the region, whilst also winning some prestigious awards, within the financial services industry. Prior to this role, Mr. Katerji led the Financial Institutions and Financial Sponsors advisory practice for Citigroup Global Markets in the Middle East and played a key role in the development of the franchise in the region. Mr. Katerji also held key positions at SHUAA Capital in Dubai, PrimeCorp Finance and Middle East Capital Group, in Beirut. Mr. Katerji holds a Masters Degree in Business Administration, Bachelor Degree in Business Administration and Bachelor Degree in Science – Biology from the American University of Beirut.